Have you ever wondered, what the responsibilities of a Technical Product Lead are? You have an idea, of course, but were you aware of the many different tasks that this position entails? Matthew Hartz works as Technical Product Lead for the Hamburg based mobile developer InnoGames. In today's interview we learn a lot about the importance of his profession and get to know details we may not have known before.
What is the job of a Technical Product Lead?
A Technical Product Lead (TPL) is responsible for all aspects of development inside our game projects. This includes everything from the Development Team, to the project's technical quality and development practices, to bringing the game live for our players to enjoy, comprising a large portion of the games production life cycle. A TPL is not alone though, relying on the team's ownership of their respective knowledge domains to keep the project moving forward toward our goals. The TPL is responsible for making sure all parts come together and providing a vision for the future.
From client and backend developers creating and maintaining a quality experience for our players. To the quality assistance members help assist, guide, and validate the feature refinement process. The development team comprises most of the members of a game team. Strong communication skills are mandatory. From project planning meetings to individual discussions, a TPL must be flexible in supporting the team and project goals together.
What typical activities do you perform?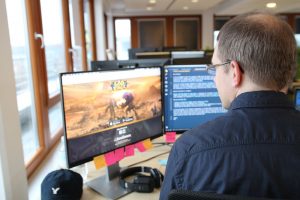 The daily activities of a TPL vary based on the current phase of a project. During prototyping or production, a TPL can be heavily involved in crafting the games architecture. The further a project advances, the more the role moves toward running an effective development team. My current project requires daily discussion and planning sessions about our next steps and the future. Within a live project, we try to keep a balance between new feature development and maintaining a high-quality game for our players. As TPL, part of my role is to provide vision for the development team's path forward. Then creating an environment where the entire team can help direct the vision to a successful outcome.
Another aspect of the Technical Product Leads role is to form a structured and balanced team. Having well defined but flexible processes allows all members of the team to seamlessly work together. Helping to create an environment where we can constantly move forward toward our goals. Another aspect of healthy teams is keeping everyone progressing in their careers which is a big focus at InnoGames. By having regular one on one discussions and continually reviewing their career development we can help everyone improve their professional lives while keeping ahead of possible future pitfalls inside the project.
When growing the current team is not enough to match the projects goals, hiring new members becomes a focus. The hiring process can be intensive on the team and candidates alike. As TPL, part of my role is to guide both groups in finding the best possible fit for our future goals and working with the entire team. Then taking the final decision on which candidate is the best fit for our future.
Lastly, Technical Product Leads are responsible for bringing the game to players. Our release process is a multi-stepped path allowing us to verify each new feature meets our quality standards. We verify the releases status through end to end tests, manual reviews, and user feedback before pushing an update online. Our players are important to us and we want to make sure each change meets their expectations.
How do you become a Technical Product Lead?
There is no single path to becoming a Technical Product Lead. My personal journey started in IT, then moved into web development. I eventually became a team lead, before finally taking technical responsibility of another project. Others moved directly into the role from inside their perspective projects. A common thread for every TPL is showing leadership and accountability within multiple projects during their professional career. Both values are foundational aspects for the position and your history in demonstrating them often indicates your success in the role.
How long does it take to become a Technical Product Lead?
Before becoming a Technical Product Lead, you need to spend time growing your skills as a developer. Having a professional background with a variety of projects is very important to flourishing a well-rounded perspective in the development life cycle. A typical TPL has spent 5 to 10 years or more working as a developer before going down the leadership track.
What are the sunny sides of the job?
I love working in a fast-paced project with many challenges where there is always something new to learn or some dilemma needing an intelligent solution. Working as a Technical Product Lead brings me in contact with a wide variety of people and situations that need leadership and ownership from the team. I enjoy being able to help the team define a vision for the future while creating a healthy and productive result focused environment.
I also get to spend my days around a group of intelligent and passionate people trying to reach a common goal. Having the feeling of community that generates brings me into the office every day. I like working with people who are focused on achievement and strive to better themselves through their work. It is the best way to keep your professional life from stagnating.
What are the dark sides of the job?
I want to say there is not a dark side to the job. I prefer to view anything difficult as a challenge. Something I should work harder at to reach my self-imposed level of quality. Of course, there are aspects of the role I enjoy more than others. However, everyone on my
team deserves my best. No matter how much I may or may not enjoy the scenario in front of me.
What career prospects does a Technical Product Lead have?
A Technical Product Lead is the pentacle of development leadership inside a game team. To "advance" your career, your next steps are often moving further into management. Several of my peers have moved into head or director roles at larger organizations and CTO positions in smaller ones. However, a select few choose to move back into development and head down the specialist path.
Which opportunities of further education and promotion does a Technical Product Lead have?
I spend my free hours growing my knowledge on leadership principles, project management, and development trends. It is important to keep up with the fast-paced development industry. Remaining static in your comprehension of the profession will leave you outdated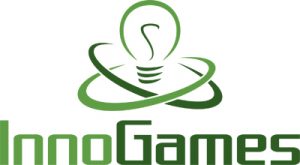 Sounds like you love your job 🙂 – hopefully this never changes! Thank you, Matthew, for this insightful interview!
You feel inspired to work for InnoGames yourself? Check out all current vacancies on the InnoGames Company Profile!
About the author