In our colum #EmployeeExperience, we regularly interview staff members of different gaming employers in different positions, who just joined their company. Our goal is to impart an impression of the numerous possibilities of gaming education and career entries. Besides, we would like to provide advice for junior jobseekers and have a closer look at the subject of onboarding from the employee's view. Today, Dan Pratt, Senior User Interface Designer at Deep Silver Fishlabs in Hamburg tells us about responsibilities in his position and hands out detailed tips for potential applicants.
Games-Career.com: Please, introduce yourself shortly and tell us which department you are working in.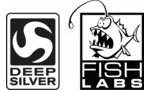 Dan: Hey my name is Dan Pratt and I'm working as a Senior User Interface (UI) Designer at DS Fishlabs. I've been working in the games industry for over a decade and have had a passion for games and graphic design for even longer.
Games-Career.com: Since when have you been working with Deep Silver Fishlabs and how can your position be described?

Dan: I've been working with the talented folks over at DS Fishlabs for a little over 6 months now. During this time I have been responsible for a handful of items, including building and implementing many aspects of our game's interface needs. From initial user flow diagrams and wireframe prototypes to final, in-game layout designs, interactive and graphic creation, content implementation and even some UI animations.
Games-Career.com: How and what were your first week's experiences at Deep Silver Fishlabs?

Dan: The first few weeks flew by! And with any new team, there is always a ramp-up period that you inevitably go through. I spent my time familiarizing myself with the ongoing projects and of course my new co-workers.
Games-Career.com: How have you been supported with onboarding at Deep Silver Fishlabs?

Dan: The onboarding period has been quite smooth, which has allowed me to get up and running quickly. At DS Fishlabs there is a rather flat hierarchy which makes it easy to talk to whomever you might need to; everyone's accessible. Even more so, being that I am an "Ausländer" (foreigner) to Germany, there are certain life challenges that come with that. Luckily, my colleagues and HR have always been super helpful, whether it's translating a letter in the mail or tolerating my terrible deutsche Sprache. 🙂
Games-Career.com: What do you particularly like about your new position?

Dan: What I like about my role thus far is that my colleagues have given me the range and freedom to take ownership over everything related to interface development. They've shown trust with this decision and in turn it allows me to focus on the most important parts of my job. Aside from that we have a few interesting projects going on, which is of course a nice bonus!
Games-Career.com: How did you get to your current position and which career steps have you taken so far?

Dan: I've always thought it's better to be the driver rather than a passenger in your career. What I mean is that the game industry is such a fast moving industry and staying complacent is not an option. I've been fortunate to find and search out the right opportunities at the right time for my particular career goals. In turn, this has given me a fairly broad background that helps prepare me for the challenges I'll face in the future. In more succinct terms, I try to stay current with my craft and never stop learning.
Games-Career.com: Do you have any advice you would like to impart to potential applicants?

Dan: One thing that I always like to stress when discussing the role of a UI Designer is that it goes much further than creating a nice graphic composition. It's a role that falls in the middle of many professions, which means you are interfacing (pun intended) with engineers, game designers, artists, production and so on to bring a unified vision to life. So, while having a solid artistic eye is important, being able to organize complex information, communicate clearly, and having a technical savvy is just as crucial. How to demonstrate that in your portfolio becomes a bit trickier, so in addition to artwork, I like to show and speak to the other aspects of UI Design. This includes showing wireframes, user flows and further notation that I might have about a particular project that I've worked on.
Games-Career.com: Since your career entry has been accomplished, which further plans concerning your occupational advancement at Deep Silver Fishlabs do you have?

Dan: As I mentioned earlier, the game industry moves so quickly that it always offers new tech and platforms to learn. Because of this, no two interfaces are ever truly the same. My goal is to keep innovating, keep optimizing and keep learning new ways of working and to create great interfaces. With the upcoming projects at the studio, I'm excited to see how I can further improve and advance my own career over the next couple of years.
Thank you, Dan, for providing so much beneficial information! Shall you always enjoy staying current in this fast moving industry and never stop innovating…
Interested in working with Deep Silver Fishlabs yourself? Find all recent job opportunities on the company profile.
About the author